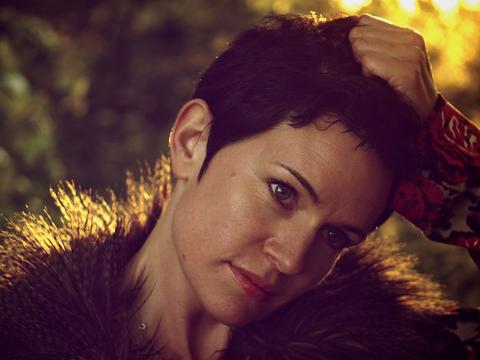 In which I interview one of my favorite authors, and we discuss wolves, tattoos and the power of landscape. Sarah Hall was born in Cumbria and lives in Norwich. She is the multiple-prize-winning author of four novels: Haweswater, The Electric Michelangelo, The Carhullan Army (published in the US as Daughters of the North) and How to Paint a Dead Man; a collection of short stories, The Beautiful Indifference, original radio dramas and poetry.

One of my favorite stories by Hall is the BBC Short Story Award shortlisted 'Butcher's Perfume.' It begins:
"Later, when I knew her better, Manda told me how she'd beaten two girls at once outside the Cranemakers Arms in Carlisle. She said all you had to do was keep hold of one, keep hold of one and keep hitting her. No matter what the other was doing to you, you kept that first one pinned, and you kept hammering her, so the free-handed bitch could see you were able to take a flailing and still have her mate at the same time. It'd get into the lass's head then, Manda said, what it would be like when the mate got put down, and you went to batter her next without a silly dog on your back making you slow. Chances were you wouldn't have to fight them both. And if you did,that second one would be so fleart from you being still upright after her best, undefended go, she'd forget any moves she knew."
Photo by Richard Thwaites.