"Rut Hillarp was born 100 years ago this past Friday. She is one of the most unfairly marginalized authors in Swedish literary history. It's as if we refuse to allow ourselves to discover just how damned excellent a poet she is." — Bernur, February 23, 2014.
"Her lyrical prose is fantastic: so beautiful, erotic, dark, perceptive and intense." — Swedish novelist Therese Bohman on her female role models, Kulturkollo, 2014.
Some discoveries are almost too delicious to share. We see an author's name (on the web, on a shelf) and we decide we must read them. There was something to that name (the way the letters looked together or the paper's grain). From the first line, the words tumble into an order, tantalizing and new, but somehow familiar. An echo we've heard before. The words tangle with our thoughts, become inseparable, and we, the curious reader, become devotees. For a time, perhaps forever, we keep the name to ourselves, guarding it as a jealous lover would. But some names ask to be spoken aloud, written in emails and on scraps of note paper with the addendum "must read." One of those names is Rut Hillarp.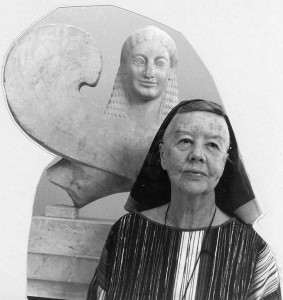 Rut Hillarp—who was she? The year of her birth, 1914, seems so distant, but the year of her death, 2003, still feels like it was yesterday. Five years ago, The Gothenburg Post called her a grand dame of the women's movement. Rut Hillarp—one of Sweden's great, yet overlooked Modernists—turns those whom she touches into devotees: her readers, lovers, students and mentees. She is a cult figure, an antiquarian bookseller in Gothenburg told me after I had learned her name and embarked on a mission to possess each and every one of her books. As soon as his shop gets one of her books in (rarely), it sells. None were in stock.
My romance with Rut Hillarp began this past summer when the Berlin-based publisher Readux Books was looking for one more piece to complete their Sex series which was to be published at the end of 2015. Since Readux launched in 2013, the publisher, Amanda DeMarco, has let me scout Swedish stories for their short, small format books, which include contemporary fiction, rediscovered classics, and essays about cities. My translation of Malte Persson's short story "Fantasy" was my second translation ever—part of a gamble to see if I could turn my ability to speak Swedish, my mother's second mother tongue, into a career. When I want to feel official, I say I am their Swedish editor. Mostly, I like to call it nothing at all and think only of the special pleasure of reading for love and with purpose, for Amanda.
Erotic culture is a special interest of mine (academically, professionally), and as her deadline drew near I berated myself for still having found nothing. In a fit of frustration (inspiration?), I typed something like "forgotten Swedish eroticist" into Google, thinking that my chances of coming across Sweden's Anaïs Nin—or anyone vaguely comparable—were slim to none. But there she was: poet, diarist, experimental filmmaker, photographer, teacher, and novelist. And her novels, four in total, are how I would like to introduce her to you here—Blodförmörkelse (Blood Eclipse, 1951), in particular, from which the English translation The Black Curve (Readux Books 2015) is taken. I am not the first to love her, apparently, but I suspect I am the first to have brought her into my mother tongue. To the best of my knowledge, this is the only published English-language translation of her work.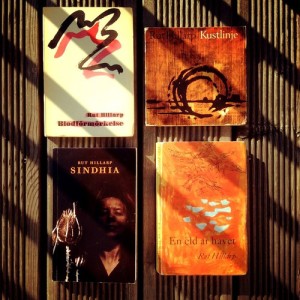 When her debut novel Blood Eclipse arrived in the mail, I barely dared touch it. A slim, brittle volume from an antiquarian bookseller in Stockholm. One of two available for sale online. Self-published in 1951. Number 27 in an edition of 500, with one of 50 covers hand-painted by the author and signed to Nils Ferlin (the poet, I assume). It was love at first line. I let the sun burn my shoulders as I devoured her words on the balcony wearing white gloves, so as not to mar the stiff, yellowed pages.
The novel begins with a man's reply to his female lover's letter:
It's true, I didn't come. I never intended to.
And I can't accept the discreet excuse you offered me in your letter.
I don't believe you waited long enough for me . . . I asked for you to wait as a period of gestation during which your desires would consolidate, your emotions coagulate. Until now any man has been able to satisfy these desires in you, but after this waiting period, they will be devoted only to Man.
Because waiting shapes his story and gives him his reality . . .
Like hunger, waiting is creative. It rouses new senses and needs, and so it offers Man an infinitesimal keyboard and a palette with metaphysical resonance.
Waiting entices the desired man, and he comes more quickly when he is late than when he is on time.
It is tempting to make a case for Rut Hillarp as Sweden's Anaïs Nin. In response to Anaïs Nin's notoriety, she wondered in a 1951 letter if she too couldn't do just as well. Indeed, they have a similar erotic project. Like Anaïs Nin, Rut Hillarp's works trace a map of the psyche's movements through love, lust, and desire. One could align elements of Hillarp's life (including a connection to Paris and creative intercourse with renowned cultural figures of her time) with Nin's own. Whereas Nin's fame was helped along by who published her in English and the censorship trials that added that tantalizing element of the forbidden to her work and life, Birgitta Holm offers no comparable story of scandal in her 2011 biography Rut Hillarp: Poet och Erotiskt Geni. Hillarp was a celebrated writer who traveled the world, took the matter of having lovers and being a lover seriously, and for whom desire was a way of becoming more receptive to her environment. One could try to spin sensation from the threads of her life—her joy in photos from costume parties, the cancer that left her with only one breast, the men and women who she invited to stay at her home, her masochism, her suicide—but that would do a disservice to a heart that beats with a singular rhythm. Holm, her former student and close friend, calls her an "erotic genius."