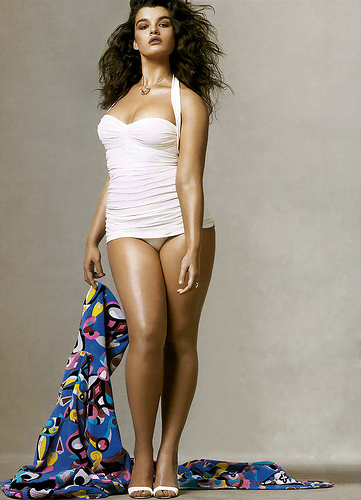 When stocks go up, so do ladies' hemlines, and vice versa, they say. So with the UK barely making its way out of the recession, what does it say that women have ditched their skirts entirely?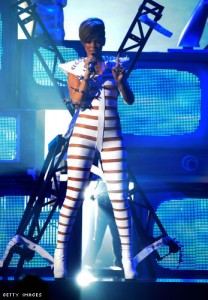 From TheCut.com to Women's Wear Daily, there seems to be a concurrence that Beyonce's fondness for the corset, Lada Gaga's corset-knickers-fishnets uniform, and Rihanna's saucy slips have much to do with a spike in women wearing lingerie as outerwear. Retailers have benefited accordingly. Between 2008 and 2009, Selfridge's saw a 70 percent increase in corset sales. After Rihanna wore a white bandage slip the American Music Awards, sales of Bordelle's £300 Angela Cage Slip increased 90 per cent. The Spring 2010 collections are still full of lingerie-inspired garments. Even erotic luxury retail brand Coco de Mer is being name-checked by the Los Angeles Times for embodying "bordello chic". Underwear as outerwear isn't going anywhere, and there's a cherry on top.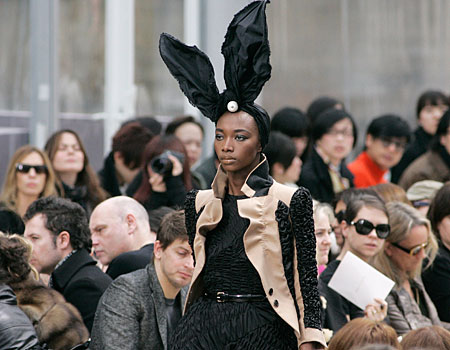 Stylist and LOVE magazine editor Katie Brand said she sent Louis Vuitton's Autumn 2009 models down the runway with bunny ears to add a bit of whimsy, but one wonders how bunny ears and the lingerie trend will translate to mass market fashionistas. Lingerie + bunny ears = Playboy Bunny. Right? Instead of more conservative hemlines during the economic downturn, fashion seems to be channeling the early thrusts of the women's movement… The age when Hugh Hefner was securing his title as bachelor extraordinaire and the Playboy Bunny became iconic, and when Cosmopolitan editor Helen Gurly Brown responded to Hef by telling women to "go get 'em." One-night-stands and a disposable income, that is.

Some form of animal ears crowning a lingerie ensemble has been a Halloween fancy dress staple for years. "Sexy" doesn't even represent this costume category anymore. Manufacturers of sexy Halloween costumes have added a "super" to "sexy" to describe their current array of naughty nurses and wicked witches. Why? Because women are demanding fancy dress that looks like intimate apparel. Now that lingerie is in fashion, women have more opportunities to work it. Perhaps it's more than a desire to "flaunt it if you've got it." In an age where we are terrorized by religious extremists who like their women covered up, is lingerie fashion a sign of protest?
Underneath this trend is the return of the voluptuous curve. The waif is over, they say. "Real women" (read: fleshier women) are exclusively gracing the pages of German women's magazine Brigitte and more are being sent down the runway. Kate Moss rose to fame when an underfed body was a mark of luxury. This body implied you could afford to starve. Amidst cutbacks and downsizing, fistfuls of breasts and juicy asses are once again desirable in the media.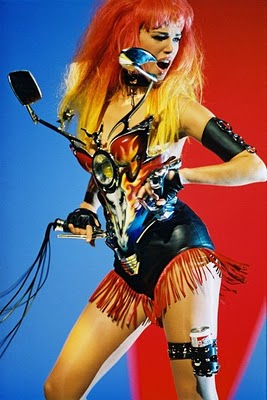 Celebrities may have brought lingerie out of FHM and into Vogue, but this certainly isn't new. The 1990s alone gave us Madonna's infamous Jean-Paul Gaultier cone brassier. Beyonce took Thierry Mugler's 1992 motorcycle corset off Emma Sjöberg in George Michael's "Too Funky" video and used it for her "I Am Sasha Fierce" album promotions. The mid-nineties also gave us the babydoll look, as worn by a bedraggled, red-lipped Courtney Love. So what can we make of this conundrum of fiscal belt-tightening and zaftig barely-dressed ladies? It's a back-to-basics reminder swaddled in a silky nothings: Eating and fucking, our primal urges. They are also the height of luxury.
Do purchase the Erotic Review here. It's just worth it.