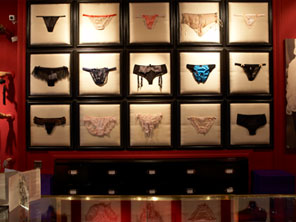 What kind of shop would you open if you were the daughter of Anita Roddick, the extraordinary activist who founded the ethical beauty empire The Body Shop? For starters, the store would probably stock fair-trade, environmentally conscious products whenever possible, be involved in education and activism, and do ethical business. You'd call it "Coco de Mer," after a rare palm seed that pokes fun at our prudishness with its shape (a woman's bottom, bent over). And it would be the height of erotic luxury. At least, that was Sam and Justine Roddick's approach.
Since the first store opened in London in 2001, Coco de Mer has been an intelligent and irreverent place to indulge one's sexuality. Justine Roddick, the head of North American operations, tells Xbiz about her sister's seed of inspiration and the American launch: "Sam was living in Vancouver, Canada. A friend had told her about this fantastic vibrator, and Sam was fascinated by the shop that sold it—that was aimed at woman—was so clinical and clean, without any real sexual lusciousness to it. She really felt that there was the opportunity to create a warm, sexy, safe place that made you feel sexual and sensual." With her feminist background that included a focus on sex worker's rights, Sam Roddick built on her engagement with sex and society.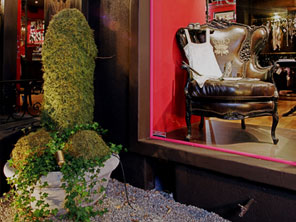 Justine, who was already living in the U.S., helped her sister develop product ideas, and they discussed opening shop stateside. In 2004, Justine launched CocodeMerUSA.com. In 2006, she opened the Los Angeles store. She says, "We had so many customers in the London store that came from California that it seemed sensible to open up a store with a built-in audience!" In November 2009, they went bi-coastal with a New York City store. The Los Angeles Times describes the store's interior design as "bordello chic."
"We are growing, slowly but surely," Roddick says. "We have no rapid expansion plan, but are committed to opening more stores in a few select cities and countries. Sam and I have an agreement that we only want to open stores in places that we love to go to and only in areas where we would love to shop. … Having said that, we are definitely expanding within our company."
Coco de Mer is growing their salons and activist efforts, which include working alongside charities to educate customers about issues such as sexual slavery and human trafficking. Justine adds, "One of my mum's favorite quotes was 'The job of a citizen is to keep their mouth open.'… It wasn't a conscious decision to become include an activist ethos into Coco de Mer, we simply don't know how to do it any differently."
Their expansion is limited by their production methods. Coco de Mer works with artists and artisans who handcraft some of their pieces. For example, their silk blindfolds are embroidered by a project in India, and feather ticklers are made in Bali of reclaimed wood and cock feathers. Ilya Fleet, a saddle maker, makes select bondage items, as does Paul Seville, whose work is otherwise found in the collections of Vivienne Westwood and Alexander McQueen.
Because of their aesthetics and ethos, Coco de Mer gets enviable press: Vanity Fair, Nylon, Elle, Glamour, Vogue… One could compare it to the respect the international design community gives JimmyJane—a brand which, of course, Coco carries. Also part of their erotic coterie are LELO, FunFactory, Shiri Zinn, Njoy, exclusive perfumes, and bath and body products. Private label lingerie hangs alongside Stella McCartney and Damaris, and Deepak Chopra's sex book nestles among fact, fiction, photography, and rare erotic books.
With two stores in London and two in the U.S., a visit to Coco de Mer is an event that people Twitter about. At these centers of erotic inspiration, leading sexperts, like Midori, hold salons covering topics from BDSM to blowjobs. Outside of the evening salons and in-store events, their fuel for lust is just waiting for a spark.
The company is actively growing their online presence in the United States so they can reach as many "lovers, adventurers, and dreamers" as possible. CocodeMerUSA.com is home to a comprehensive online store, information about activism, and specially commissioned videos and photo editorials by Eva and John Midgley. They also engage with fans on social media sites like Twitter and Facebook.
"Whether you are shopping in one of our four stores or online, we have created spaces that are sensual, inviting, sexy and inclusive. You can walk into any one of our boutiques and really not know that you are in an erotic store for the longest of times. …This really relaxes people, when you take the fear and shame out of being in an erotic store," Roddick says.
Customers pop in on their lunch breaks to send naughty photos to their lovers. (The confession booth-style dressing rooms are fitted with cameras that can also send the image for public view on www.CocoDeMerUSA.com.) One of Roddick's favorite anecdotes involves a 78-year-old women from Texas who came into the store quite by accident: "Before long, she started to tell us that she had been widowed a year before after being happily married for 40-plus years. In the course of the conversation, she revealed that she had never, in her life, had an orgasm, and it was on her 'bucket list' of things to achieve. We helped her find a vibrator that we thought would be good, and off she went. The next day she called the store, tearful, to say thank you. She had had her first orgasm!"
Roddick explains, "At Coco de Mer we feel really strongly that pleasure is and should be the focus. That is the journey we are interested in: finding a state of pleasure, celebration of sex and sexuality and intimacy with your lover and yourself. We aren't interested in being satisfied. That means you are finished, and the job is over!"
Twitter: @cocodemerusa
Facebook: www.facebook.com/cocodemerusaevents
Printed in this issue of Xbiz Premiere. See the digital edition at www.xbiz.com