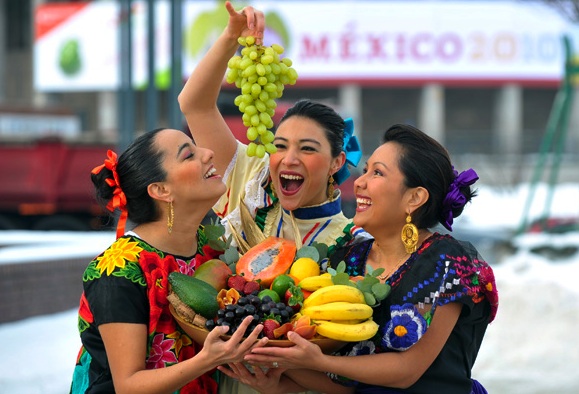 BERLIN — Attendees were still making their way to Berlin Feb. 3, resulting in a relatively slow first day for Fruit Logistica, held here Feb. 3-5. But things picked up in a hurry as a record number of visitors made their way to the show, giving the unmistakable impression of a truly global and growing fruit and vegetable business.
This year, 53,000 industry members from 130 countries attended, and 2,302 exhibitors from 71 countries greeted old and new business acquaintances with open bars and comfortable places to sit and chat.
Mexico played a prominent role as the official partner country at Fruit Logistica. As such, it enjoyed greater prominence as a market and its visibility was enhanced by jubilant mariachi music that emanated from the country's pavilion on the trade show floor.
"To be the partner country means that there is a large recognition of the efforts of Mexican produce businesses over the past years, and indicates the ability of Mexico to be a leader on the global produce industry," said Miguel Angel Padilla Acosta, envoy to the embassy of Mexico in Germany. "That we were chosen as the partner country for this event also indicates a growing interest in Mexico."
Limes and mangos were among the various Mexican-grown commodities that were well represented in the Mexican pavilion by companies such as Citricola and Grupo Agricola Palenque. Cactus pears, distributed by Los Rancheros and La Flor de Villa Nueva, piqued much excitement among Europeans who had early encounters with fine examples of the fruit in the flesh.
As Mexican companies face increasing competition in Europe, from South America for example, their central position at the show this year is timely.
This was Canada's first year to have a dedicated pavilion, a factor that contributed to the presence of new exhibitors such as Jealous Fruit. Among other Canadian businesses participating in the pavilion were B.C. Tree Fruits Limited, Scotian Gold, The Bay Grower's Co-op Inc. and B.C. Blueberries.
Dan Dempster, president of the Canadian Produce Marketing Association, told The Produce News, "We're here to create an awareness to people who may be interested in doing business with Canada and to promote our trade show. We've also noticed that people are very interested in what products grow in Canada."
As Canada's population diversifies, it is becoming an increasingly large market for exotic produce from around the world, noted Adrian Abbott, director of marketing and international relations at B.C. Tree Fruit Limited. Those looking for Canadian greenhouse growers were out of luck. The growers, located mainly in southern Ontario and British Columbia, export mainly south of the Canadian border. "It's not a big thing now for Europe," Mr. Dempster said.
As far as other exhibitors' reasons for coming, Will Van Baalen of B.C. Blueberries said, "The primary reason I come is to look at the packaging." To get more face time with select companies and organizations, some exhibitors, like USA Pears and the Produce Marketing Association, hosted invitation-only receptions.
Among the highlights of the show for USA Pears was the debut of the ethylene-conditioned Concord pear. The aim of this conditioning is to help the pear become more of a regular buy at the supermarket by delivering riper, tastier fruit that does not take a week on a kitchen counter to mature. USA Pears, which is making great strides with its social media strategies on conveying the health benefits and versatility of pears to the end consumer, offered amuse bouches showcasing the pear.
Finally, Kevin Moffitt, president and chief executive officer of the Pear Bureau Northwest, based in Milwaukie, OR, was on-site at the show and entered another year as vice president of the World Apple & Pear Association.
Commenting on the difference between Fruit Logistica and U.S. trade shows, Paula Gonzalez, director of member relations for the Produce Marketing Association in Newark, DE, said, "In the U.S., people make and close deals at their booths. Here, it's about building relationships, and so the booths have a more social atmosphere."
PMA attends Fruit Logistica to promote its own trade show as well as international membership in PMA, according to Ms. Gonzalez and Nancy Tucker, vice president of global business development for PMA. One example of a successful push by PMA to broaden membership is the association's Australian chapter.
"In Australia, we have a strong, active community of members. They now have their own board of directors and they have an affiliation agreement with us to use our branding," Ms. Tucker explained, adding that Fruit Logistica provides "a great opportunity" as PMA is now looking to broaden its membership in Latin America.
The U.S. Apple Export Council credited regular participation in Fruit Logistica with helping establish Russia and India as export markets, according to Kristine A, Marceca, executive director of the council, who added that the Middle East is another market starting to create a buzz because of increased attendance at Fruit Logistica.
With regard to goals of attending the show, Ms. Marceca felt that the timing of the PMA, Fruit Logistica and Asia Fruit Logistica shows created excellent opportunities to see people several times and to let relationships develop. This year is the first year of U.S. apple exports to Singapore and Thailand, and as Ms. Marceca spoke with The Produce News, she was greeted by a pair of Thai business acquaintances.
The council is actively pursuing new markets for apples from the East Coast, including India, which is responding very well to the Empire variety.
However, Ms. Marceca pointed out, "It's very important to us that Washington shippers are successful. We're a boutique supplier. We're looking to open up markets on a different scale."
Frank Davis, who in March will be the chairman-elect of the Washington Apple Commission, said, "Our goal is to ensure that the brand is well known throughout the world, even in emerging markets such as India and the Middle East, and to continue differentiating ourselves in the apple industry because of quality and year-round supply."
With regard to European trends, the United Kingdom is the strongest market for organic apples, accounting for 5-10 percent of the total crop. "Organics will continue to grow," said Mr. Davis, "but it's market to market."
Ronnie Cohen, vice president of sales for Vision Import Group in River Edge, NJ, said, "We consider ourselves not just sales agents but global partners. It's really informative to gather and share different experiences of import and export businesses."
Raul Millan, executive vice president of Vision Import Group, added, "We're in a new generation of produce logistics. It's important to learn how different countries and companies approach logistics, their transit time, the maturity of the fruit at harvest and processing."
One emerging market trend in mangos is tree-ripened fruit. "There is a customer base willing to pay the higher price point for this product category," observed Mr. Cohen.
Mike Maxwell, president of Procacci Bros./Garden State Farms, said that seeing the European trade's packaging machinery, labelers and packaging ideas was his primary reason for attending Fruit Logistica.
"You don't know what you're looking for until you see it" at such a show, Mr. Maxwell told The Produce News Feb. 8, adding that he was impressed by European machinery manufacturers because "anything you need they can make."
He was also impressed that European businesses "are always looking at different ways to package" fresh produce.
Mark Masten, vice president of sales for Paramount Farms, which grows "Wonderful' brand pistachios, said, "Our goal is to connect primarily with the Europeans."
As far as making pistachios an everyday market item for the consumer, Mr. Masten said that there is still more work to do in Europe, even after Paramount's television ad campaign and the launch of a social media program, including the web site www.PistachioHealth.com.
As part of promoting pistachios as a healthy item in line with the ever- increasing consumer focus on health, Mr. Masten said that Paramount is working toward placing "Wonderful" pistachios in produce section, instead of near the chips.
Another goal, he said, is "to get our product in the Dubai Airport duty-free shop, a market that sells as much as a major retailer." Success in this goal strongly implies international word-of-mouth marketing for the brand.
On a final note, whereas Americans favor the traditional salt-roasted pistachio, Paramount's new salt-and-pepper-flavored pistachio is performing comparatively better in Europe.
Hal Miller, vice president of sales for Kwik Lok, spoke enthusiastically about tending to the needs of the baby boomer generation by creating tabs that were easier to handle for those with arthritis.
Mr. Miller also noted that Kwik Lok's products are now more customizable than ever, improving any packaged product's traceability, not to mention the company's increasing focus on sustainability, which includes encouraging customers to reuse its product. Kwik Lok is also working on its ISO 14000 certification and upgrading its manufacturing plants with more efficient, quieter machines.
With an increasing awareness of the need for a variety of fresh produce to be available to end-consumers year round, attendees found Fruit Logistica to be an excellent opportunity to find windows of opportunity for every aspect of the fresh produce around the world.