A splash of press from the Audible UK blog on a New Swedish Fiction Night, co-organized by Dialogue and SELTA.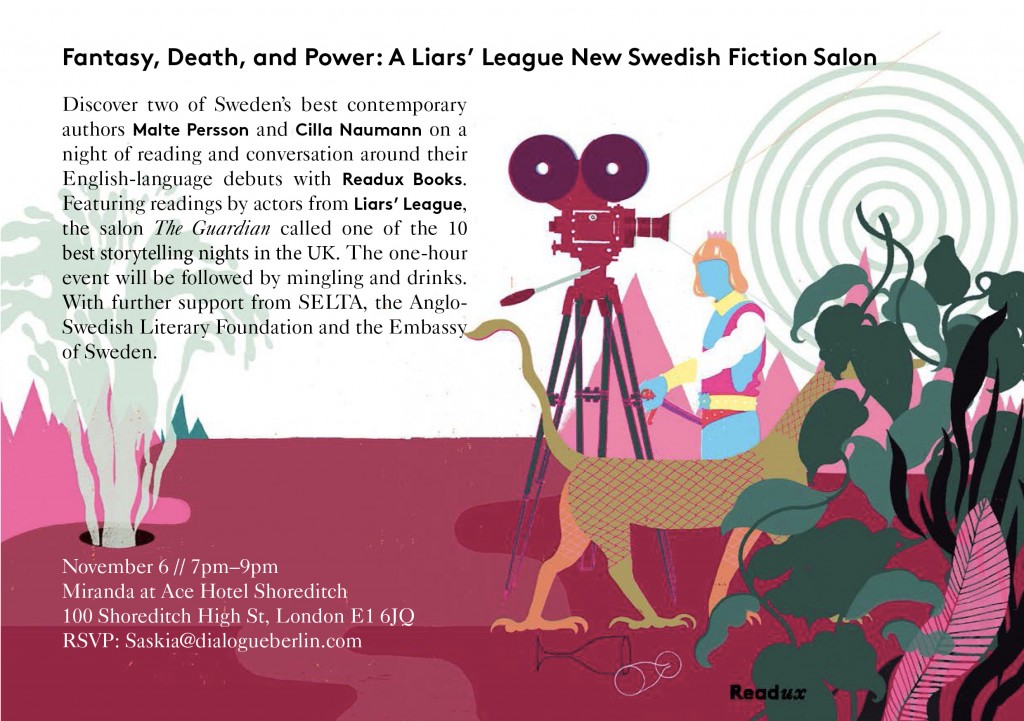 Last Thursday we had the pleasure of an invite to Saskia Vogel's Swedish anti-crime lit session, including actors from Liars' League and a select audience of East London's lit folk. Huddled in the depths of Shoreditch's The Ace Hotel, American beer in hand, we settled into an evening of short readings and discussion of all things Scandi-lit.
When I think of Swedish export, I am, like I think most of the country, reminiscent of the thrilling crime, which has unavoidably placed Sweden on the literary map. Stieg Larsson, Karin Alvtegen, Henning Mankell, Asa Larsson, Kerstin Ekman, the list goes on. Not to mention the various adaptations and inspired dramatisations to grace both the small and silver screens. Outside of Sweden it seems, we are still riding the wave of moody landscapes, complex yet unforgettable protagonists and plots twists a plenty. And who can blame us when the bar is often set so unbeatably high. But this night is dedicated to the 'other' (for want of a better word) Scandi books, those which are consciously drifting away from the great crime hull.
"For such a small country, there is so much murder" author of The Lesson, Cilla Naumann jokes.
Three excerpts from three short stories, as part of a new collection (published by Redeux, with beautifully designed covers and wonderful at pocket size, means that you can never be without). The readings performed by Cliff Chapman and Louise Gummer were lively and imaginative. These stories capture quirky and disconcerting tales of relationships and power; humorous yet unsettling insights into the workings of the mind, and an enrapturing musing into, 'where do the Hollyhock come?' (We sneaked a peak at the last page – total literary sacrilege? Perhaps, but our will power to resist was out the window after the reading. And oh boy, the ending is simple and brilliant).
Following, two authors and two translators took the stage in a panel discussion chaired by Saskia (translator of the three short texts). As the panel discussion moved away from the shorts and authors themselves, the subject changed to that of translation itself – opening and discussing ideas about ownership and interpretation. One author confesses that her work was recently translated in Croatian and she is no longer able to understand. "A terrifying experience" she says, but perhaps an important one. For an author to 'hand over' their work – foreseeably out of their control – harks back to a simple and traditional method of storytelling through the spoken word.
A fresh pair of eyes, or ears, can do wonders for perspective and innovation. Notable, the panel discussed how in a previous seminar several translators had been tasked with the same work. The translations were hugely varied because essentially translation is not an exchange of language but of ideas and experiences, and they are and always will be entirely up to the individual.
– Claire O'Neill
Liars' League have a regular spot at The Phoenix, Cavdenish Square on Tuesdays at 7pm
Panel:
Saskia Vogel (Chair)
Cilla Naumann (Author of The Lesson)
Malte Persson (Author of Fantasy)
Nichola Smalley (Translator)
Where the Hollyhock Come From is by Amanda Svensson who could not attend the event.