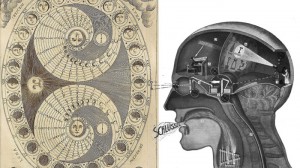 On Thursday, I'll be reading from my memoir-in-progress at this multimedia salon held in a former hospital for cab drivers' horses. The reading will begin:
Los Angeles in the 1980s, the heart of the dream factory.
When I was a child I wanted to know death. I danced in hula skirts, crawled the lengths of swimming pools, stayed put in the saddle of a bucking horse, dreamt with a hibiscus bloom in my golden hair, but my first memory of childhood is sitting on the cold tiles of the kitchen floor, holding a knife against my forearm.
I did not want to die. I wanted to know what this danger was that I had been warned of and if I had any control over it. I assumed the danger was death. The knife in the flesh, the brush fire, the car crash, the gas leak, eating oleander or jimson weed. Tangled flora bound death and danger.
There will be art, poetry and much more from 7.30 until about 9pm. Yes, there will be a bar in service.
More about the salon below; this month's details here.
The Light & Shadow Salon is a place for artists, writers and audience to meet and share ideas about the past, present and future of the moving image in all its forms.
The Salon is a place for exchange, interaction and cross-pollination and it welcomes active contributions and interventions from all its participants.
The Salon endeavours to support a structured and informed dialogue around film, the moving image and all that it involves: from magic to science, from sound to the eye, from ritualism to storytelling, from myth-making to hypnosis.
The Salon intends to act as a temporary and ephemeral container for all the work, ideas and people with an independent, radical and idiosyncratic nature, who renounce to find a home in existing movements/institutions but rather embrace the nomadic and transitory nature of art.
The Salon supports individual thought, inquisitive minds and a desire to further knowledge through dialogue and exchange.
'So when you hear yourself invited to 'see', it is not the sight of this eye (of the flesh) that I would have you think about. You have another eye within, much clearer that that one, an eye that looks at the past, the present, and the future all at once, which sheds the light and keenness of its vision over all things, which penetrates things hidden and searches into complexities, needing no other light by which to see all this, but seeing by the light that it possesses itself.'
(Hugh of St Victor)