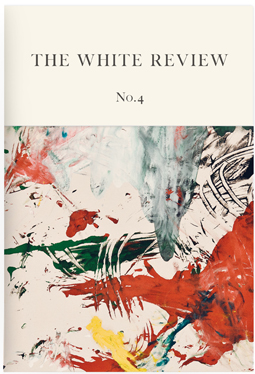 The White Review published a vignette-burst essay of mine in their July e-edition. It represents some of the thinking I've been doing about my book on coming of age in the 21st century, in terms of voice, theme and tone. The White Review is a fantastic literary publication, and I'm mad for the work of Landon Metz, the artist whose painting is featured on their latest cover. Do check it out. Meanwhile, enjoy! 
WAYS OF SUBMISSION
By Saskia Vogel
ON A PALE MARBLE FOUNTAIN IN DUBROVNIK, I POSED. I PRETENDED I TOO WAS A STONE FIGURE, WATER GUSHING FROM MY SMOOTH, FULL BREASTS. A FOCAL POINT IN A CROWDED SQUARE OF COFFEE DRINKERS AND NUNS, RADIATING FROM WITHIN. I COULDN'T WAIT FOR MY VISION OF A WOMAN TO EMERGE. IN MY GRANDMOTHER'S WOODED GARDEN, I WORE MY RED PLAID DRESS BACKWARDS, PLAYING AT HAVING A BUST, THREE BUTTONS UNDONE. MY COLLARBONES WOULD BE SOMETHING BEAUTIFUL, I KNEW.
Like me, my friends rehearsed womanhood. One friend would lead me to her mother's closet and pull out the silks and laces for us to wear. Another drew a brassiere, stockings and garters on her Barbie doll. Barbie and Ken slept naked. I pressed them together and held them still. I imagined this cool, dry embrace was the path to ecstasy.
The hair jarred me out of this fantasy. I was dreaming in the dusk of a blanket fort, my arm behind my head. Springing from my underarm was crooked, pale brown wire. I felt too old for my t-shirt – painted birds in puffed, bright colours. If I ignored the strands, would they disappear?
My first menstruation came on Easter Sunday. And the next at Christmas. Then again at Easter, Christmas and in some years at high summer. I felt connected to something great, God or otherwise, yet wanted nothing to do with the blood. I wanted only to be an effigy. Now, I tried to will it away. I thought the dry time between bleeding meant I was succeeding.
**
My father and I hiked up the hill behind our house, past where the fires burned, past the horse stalls, past the fire roads and to the strip mall where I took karate lessons. I felt strong, free, free again. Free as one can only feel in suburban Los Angeles when one realises it is possible to live without a car. I loved my breasts, small, nonetheless there, my strong legs. The way the fabric clung to me, the yellow dust and sweat on my skin. My shadow sliding up the path ahead of me. At the hillcrest, I surveyed the golden land, the ocean spilling into sky blue. I felt at home here and in my skin, growing into the women of the fountains. I felt beautiful, full of life, ready. At the karate studio, my father said to the sensei, 'She's growing up fast.' I felt the man – the man who taught me how to yield a katana, who taught me about breath control, the man who knew how I moved – looking at me with something other than sensei eyes. I felt cold and stood still. When I called my body out from the fountain's ledge and atop the dry-brushed hill, I never expected an echo.