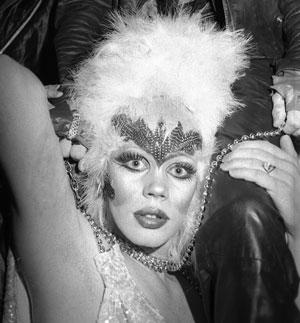 Ron Howard talks to Steve Martin, man of men, joy of joys in a plaid suit.
Ellen Degeneres reading Fifty Shades of Grey.
Janet Fitch explores how writing creates a city, in this case Los Angeles. And Dennis McDougal talks about the secrets of Southern California.
Foreign Policy's Sex Issue: from mullah sexuality to why women are a foreign policy issue.
I met someone who had never heard of or seen Chloe, Drew Droege's genius Chloe Sevigny-inspired video series. We should all see this hilarity, if but once. Enjoy 'Toast'.
"I normally give up carbs, but I never stick with it, and this kind of seems easier". Slutever's Purple TV show. This month: sapphic dalliances.
Do you have a doppelganger? Alan Feuer does and he'll tell you all about the moustachioed gent in his NY Times piece. (Mine is a Berlin-based blogger and arts journalist.)
How a mister became a madame in Vancouver in the 1970s.
Do cute kids like indie rock? Oh my god, the cutest video ever. Vice has been nailing it lately.